Hello! No, I am not about to be sent to Bedlam, we really have a blog tour of Jane Austen's Pride and Prejudice. I am very honoured to start this blog tour that will take you to different parts of the project by Sophie Turner with guest posts, book reviews and excerpts that I hope you will enjoy!
Sophie Turner has been working with the most popular novel by Jane Austen and she is doing an astonishing and outstanding work bringing back all the splendour and glory that only the one written by Jane Austen more than 200 years ago had (not that newer editions are not good, but that one is just the best).
Here you have the description of this work:
The novel needs no introduction. But readers may not have realised that we have been losing "Pride and Prejudice" over the years, particularly digitally. Grammar, spelling, and punctuation have eroded significantly from the 1813 Egerton first edition, and many digital copies suffer from poor formatting.
In 2017, the 200th anniversary of Jane Austen's death, her "darling Child" has been painstakingly restored to the three-volume 1813 first edition. Adjustments have only been made where there were errors in the 1813 text, and are noted in detailed annotations at the end of the novel.
Please enjoy this beloved story, restored to Jane Austen's original voice.
I am extremely proud of presenting part of Sophie's work, one part that is very important, even more nowadays were the "image" is too relevant for modern people. Please, read below and admire the effort and research that Sophie Turner has done about the cover, how covers have been changing through time on this beloved masterpiece:
Thank you so much for having me back here at My Vices and Weaknesses to talk about this special project of mine, to create a restored digital edition of Pride and Prejudice for readers, in celebration of Jane Austen's life and work. I'm really excited to put this book back in the hands of readers, restored to Austen's true voice.
One of the things that was tricky about doing the book was creating the cover, because while I could endeavour to restore the content to the 1813 Egerton first edition, I could not do that with the cover. In Jane Austen's time, it was much easier to avoid judging a book by its cover, because covers were bound simply in paste board. This was because your Mr. Darcy types, who cannot comprehend the neglect of a family library, would be intending to have the book rebound much more expensively, in their preferred binding. This is why most of the first editions you see surviving today have such different bindings, and often the binding still went before the pages, so they were rebound more than once.
Here, as a rare example, is the National Library of Scotland's first edition of Pride and Prejudice, in the original boards.
In the 1820s and 1830s, cloth began to supplement the plain board, and at about this time dust jackets began to be popular, although the first of them appeared in the 18th century. (Originally intended merely to protect the book until it reached the owner's library shelf, it took about a century for them to be kept and considered part of the book.) This was the first time that books could be advertised by their covers, and, well, the book industry has not looked back.
So I thought I would compile here some of the most interesting Pride and Prejudice covers that I've come across:
1894 Hugh Thomson Peacock Edition
No cover list of Pride and Prejudice would be complete without this one, and for good reason. It's beautifully eye catching, and yet luxurious at the same time. One of these will set you back about 800 USD on eBay!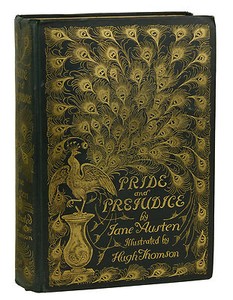 1895 Charles Brock
Another eye-catching contribution from the late 19th century. There's only one of these available on eBay right now and THAT will set you back 1,975 USD.
Circa 1940 movie tie-in
I really did not know that movie tie-in covers went back this far, but they most certainly do, as there are quite a few out there featuring Greer Garson and Laurence Olivier. This particular one will set you back 250 USD.
1940s Pocket Book Edition, aka Attack of the Fonts
"Hey," said the junior designer to his friend in accounting. Wait, this was the 40s, so he probably didn't say that. "Say, chap," said the junior designer to his friend in accounting, "What fonts do you think I should use for this cover?" His friend glanced at the reasonable illustration, the bright pink color, and said, "Well, I always like to pick two or three fonts that have absolutely nothing to do with each other and look completely incongruous when put together. And, you know, if you could make Jane Austen look like she's from the Wild West, that would be splendid." If you are keeping a museum of font history, this could be added to the collection for a mere 50 USD.
Circa 1960s Dean & Son OR FROM THE FUTURE???
Okay, this is clearly, almost 100% certainly Lyme Park. What is the story here? Mere coincidence? A BBC location scout who had this edition growing up? Doctor Who? I NEED TO KNOW. This can be yours for 18 USD from eBay, if I haven't bought it first.
1965 Harper Perennial
"I CANNOT LISTEN TO YOUR PROPOSALS BECAUSE I AM TOO BUSY ARRANGING THESE FLOWERS." Yours for 65 USD.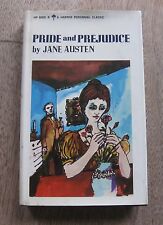 2002 Penguin Classics
I had to include this one because it's "my" Pride and Prejudice, the copy that's gotten the most reads before I switched over to ebook. And I felt like we needed a nice, classic cover after some of the last few!
2009 Harper Teen aka Twilight Wannabe
Giving them the benefit of the doubt, this one is, "How can we use the success of Twilight to get teens to read more classics? Not giving them the benefit of the doubt, it is, "How can we use the success of Twilight to sell more classics?"
2013 Pulp Classics
This one is pretty much a must-include. It's rapidly become almost as iconic as the Peacock edition. I mean, what even is happening here? This vaguely Firthian Darcy with cravat and cigarette can be yours for about 24 USD on Amazon.
2015 Barnes and Noble Collectible
See, we can have nice things in the modern era! I like that it hearkens back a bit to the Peacock edition. And it will certainly set you back less than that one will: they can be had new on eBay for less than 10 USD.
2017 Annotated and Restored ebook
Since we DO judge even ebooks by their covers, this restoration to 1813 did need a cover, and I produced a number of options, generally in a fairly classic design. This was the winner of the vote on Just Jane 1813, and I think readers made a great choice.
In 1813, the author of the novel was known only as the author of Sense and Sensibility, and this cover includes that in a sort of playful way, as if it's helping to "sell" readers on this "new" novel. But Jane Austen also gets her name on the cover, in a big, bold way. I wanted her to have a cover with some swagger. She deserves it.
Were you aware of all this info? or did you know all the different covers shown above? Maybe you have even seen different ones and if you read Pride and Prejudice in other languages you may have encountered various covers. However, what do you think of the cover? Maybe you were one of the people who voted for this cover, o a different one.
Why not buying this ambitious and lovely project? You can find it on Amazon, Barnes and Noble, Kobo. Sophie has tried to make it almost free, so I am sure that you will enjoy it and you will realise how interesting this "version" is as it shows a more "authentic" feeling.
Sophie Turner has already presented herself through the cover research but let me tell you a bit more about her:
Sophie Turner worked as an online editor before delving even more fully into the tech world. Writing, researching the Regency era, and occasionally dreaming about living in Britain are her escapes from her day job.
She was afraid of long series until she ventured upon Patrick O'Brian's 20-book Aubrey-Maturin masterpiece, something she might have repeated five times through.
Alas, her Constant Love series is only planned to be seven books right now, and consists of A Constant Love, A Change of Legacies, and the in-progress A Season Lost.
She blogs about her writing endeavours at sophie-turner-acl.blogspot.com, where readers can find direction for the various social drawing-rooms across the Internet where she may be called upon.
You can follow Sophie on Facebook   Twitter   Sophie Turner's Blog   Goodreads   Pinterest   Amazon
Time to Give Away
Sophie Turner is kindly offering one ebook copy of "her" Pride and Prejudice to one of you. This time I am going to ask you to comment on these covers and/or what covers mean to you. One thing that I would love you to do is to show us which is your favourite cover of Pride and Prejudice and why. It can be one of the covers above or you may have a different edition. Just share it on the comments.
The giveaway will be open for a long time, all the entries before 15th of August will be counted (GMT time). (One entry per person in total, I apologise for that but I am moving countries  on Tuesday and I will have little time to check absolutely everything between unpacking and settling).
Tour Schedule
July 27 / My Vices and Weaknesses/ Guest Post & Giveaway
July 28 / Austenesque Reviews/Book Excerpt & Giveaway
July 29 / My Love for Jane Austen/ Guest Post & Giveaway
August 3 /Just Jane 1813 / Book Review & Giveaway
August 4 / My Jane Austen Book Club/ Guest Post & Giveaway
September 4 / Diary of an Eccentric/ Guest Post & Giveaway
September 5 / Laughing with Lizzie / Book Excerpt
September 6 / Savvy Verse & Wit / Book Review & Giveaway
September 12 / Margie's Must Reads /Book Review & Giveaway
September 14 / More Agreeably Engaged /Guest Post & Giveaway
September 15 / Babblings of a Bookworm/ Book Excerpt & Giveaway